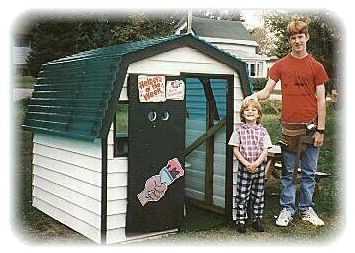 This low cost easy-to-build play house was built using 2 x 3 frames space 24" apart nailed to a (base plate) pressure treated 2 x 4 sill plate. The frames are covered with vinyl siding and fiberglass roof sheets. No floor required as the frames where study and ridged enough to provide a stable ground bearing.

A 2 x 2 was nailed to the roof member ends then a 1 x 4 fascia nailed to the 2 x 2 to give an extended front and rear overhang.
The software generates a 4 page plan and an 8 page booklet
The number of plans or amount of detail is up to the software users preference.